Frequently Asked Questions:
Why rent a Key West yacht vs. a house or hotel?
Renting a Key West yacht is typically less expensive (less hotel rooms needed).
You have access to all amenities of The Perry Hotel and Stock Island Marina Village
Two waterfront swimming pools, poolside and fine dining restaurants, retail, live entertainment, hotel boutique, spa services, and free shuttle service to and from downtown Key West.
Waterfront views while staying on the yacht at the marina along with sea life all around you.
There is no one next door or above or below you like a hotel.
Take in a private day charter for the opportunity to learn to sail, snorkel, fish, swim, and even take in a private 24 hr Island Adventure.
What is an overnight stay on a yacht at the marina in Key West like?
A Key West yacht rental is similar to a house on water
Views of the ocean and sea life including fish and manatees that swim around you while you sleep and relax
You have the yacht all to yourselves! No one else stays with you.
Take the same Key West yacht you stay overnight on for a 2 hr sunset cruise, 4 hr excursion, 8 hr, or 24 hr private island adventure with a captain and one crew
Free access to the Perry Hotel and resort's amenities including:

Waterfront swimming pools
Restaurants and poolside wait staff
Spa and massage service
Amazing all you can eat Sunday seafood brunch and all you can drink bloody marys and mimosas
Fire pits
Live music
Free Shuttle service to and from downtown Key West and Smathers Beach 7 days a week form 9am-9pm
Rum distillery and retail
Boutiques
Wedding hosting
Large Hotel right next to our yachts
Dog park

Around the clock assistance from the friendly staff at Blue Ocean Yacht Charters
Our staff will get you familiar with all the functions of the boat when you check in
You will have one parking space near the yacht's dock
You will have access to the marina's bath houses and laundry facility
There is on-site rentals for Jeep's, bicycles, scooters, and more
Rental cars are located at the airport
Uber and Lyft are available 24/7 in Key West
How much does it cost to rent or charter a Key West yacht?
Average prices for the overnight stay on the yacht at the marina can range from $250/night to $500/night.  The average cost per bedroom is $90/room.  The rate depends on the yacht you choose, size of your group staying, and the time of year.
Prices for private day charters on the same yacht you stay overnight on, average from $600 to $1400. Pricing depends on which Key West yacht you select, time of year, and length of your time you're out on the ocean

Day Yacht Charter Options:  2 hour sunset sail/cruise, 4 hour excursion, 8 hour excursion, or a 24 hour private island adventure

Overnight yacht charters away from the marina average from $1000 to $1700/night.  Rates depend on the Key West yacht you select, time of year, and length of your yacht charter.  The longer your yacht charter is, the average price per night decreases.
Do I need to know how to operate the yacht or will a captain be provided?
Blue Ocean Yacht Charters will help find an experienced captain to take you that is familiar with the boat you rent.
Customers who have the experience and knowledge to operate a yacht on their own also have this option with Blue Ocean Yacht Charters.  This charter is called a Bareboat Charter.
What is the cancellation policy? What happens if the weather is bad? Do I get a refund?
Blue Ocean Yacht Charters Cancellation Policy
A maximum refund of 50% of the total cost of the rental/charter is allowed for cancellations made 90 days or greater from the reservation start date.
No refund, for cancellation made less than 90 days, except for security deposit, which is fully refundable in the event of a cancellation at anytime for any reason.
Weather Related:
Day sails and 24 hr Charters with overnights at the marina: Fully refundable in the event the captain cancels due to bad weather only if there is not an available captain to reschedule to during the reservation period.
All other charters, if BOYC determines conditions are not favorable:

Charterer can reschedule the charter and apply the amount paid toward a future charter for up to one year from the canceled check in
In the event the charterer does not want to reschedule, charterer has the option to spend nights at the marina until weather allows for departure. Charterer would be entitled to a prorated refund for the overnight rate at the dock only.
Charterer is not entitled to any refund unless our location falls with-in the cone of a named Hurricane that is projected to make landfall with-in 72 hours of check in. The charterer would be entitled to a 50% refund (minus the overnight rate at the dock) in the event the charterer did not want to reschedule the charter with-in one year from the date of check in.  If charterer wants to reschedule with-in one year from canceled check-in date, then the full amount paid can be credited to the cost of a future reservation. No refund will be available for a reservation with an overnight on the boat at the marina (pro-rated from charter fee) if our location is not in the path of the cone of 72 hours or less. 

We do not offer refunds for cloudy skies or rain showers.  Typically rain doesn't last long in Key West and may only interrupt your charter for a short while.  Summer time is the better chance of rain in Key West.  Sunny skies and warm temperatures are very common in Key West.
Where can you go on a yacht charter?
The possibilities are endless.  The time you have and your budget are probably the most limiting factors.
Day charters to the coral reefs are the most popular.  For more information on these charters visit: https://blueoceanyachtcharters.com/yacht-destinations/
The Dry Tortugas National Park and Fort Jefferson is the most popular charter away from the marina.  You will need a minimum of 5 nights for this yacht charter.  This is a great charter for families with kids.  For more information on this charter visit: https://blueoceanyachtcharters.com/yacht-destinations/
Up the Florida Keys.  You will have marinas and anchorages on this charter to get out and have access to land amenities.  Miami is a one week charter, one way and best done in two weeks round trip.  Scroll to the bottom of this page for more information on Miami: https://blueoceanyachtcharters.com/yacht-destinations/
Various private, un-inhabited, islands with a minium charter time of 24 hours
The closest Bahamas Island, such as Nassau, is a minimum of a two week charter.
Southwest Florida: Marco Island, Naples, Ft Myers, Cape Coral, Florida.  This is a one to two week charter and for more experienced boaters.
Which yacht is right for my guests and me?
Determine your group size and sleeping area needed.  The larger your group, the larger the boat you will need.  Our largest boat can sleep up to ten at the marina and eight on an overnight charter away from the marina.  If your group size is larger than ten total people, you will need to rent two yachts.
You will need to decide whether your overnight stay will be at the marina or away from the marina on various protected anchorages on the ocean. The captain and one crew member will need to sleep in the salon or galley on an overnight away from the marina.
Decide if you want a sailing yacht or a motor yacht without sails. Cost of fuel and the noise element are factors to consider.
Your budget will usually dictate which yacht you can choose from. The size, style, time of year, and demand will determine your total cost of the yacht rental.
The location of a yacht is very important to understand when deciding on a yacht rental in Key West. If you plan to stay overnight on the yacht at the marina, having access to a beautiful resort and land amenities are important to our customers.  Customers of Blue Ocean Yacht Charters have free access to all amenities of the Stock Island Marina and Perry Hotel.
Where do the captain and crew sleep on an overnight yacht charter away from the marina?
There is no captain or crew on your private yacht while it's tied to the dock at the marina. You have the yacht all to yourselves!
Captain and Crew sleep in the galley or salon on an overnight yacht charter away from the marina.  Sometimes they will even sleep in the cockpit of the boat.  Some captains will even bring a hammock to sleep on. Other captains prefer there own cabin.  We will help find you the right captain for your charter needs.
Keep in mind you will need to share one bathroom with the captain and crew during the term of your yacht charter away from the marina.
Are the Key West yachts suitable for kids and young children?
The age of the children on a yacht rental all depends on how comfortable the parents are. Typically more attention is needed to small children.
We recommend that children are supervised by an adult at all times during the yacht rental.
Our Key West yachts are large and do not move at the marina. Careful attention should be made when children are on the deck or near waterlines.
The cockpits on our boats are large and suitable for kids to hang out.
We highly recommend that all children wear life jackets when the yacht is underway.  It is up to the parent whether their children wear a life jacket when the yacht is tied to the dock at the marina.
Snorkeling can be challenging for kids that can't hold their breath and go under water.  Kids that are unable to snorkel still can have fun watching fish from the yacht, swimming, jumping off the boat, or fishing.
What can you do on a yacht charter?
Please visit our Destinations page for more detailed information on what to do on a yacht charter: https://blueoceanyachtcharters.com/yacht-destinations/
Sail and learn to sail. Learn the functions and parts of the boat.
Sunset cruise
Snorkeling and Scuba Diving of coral reefs and ship wrecks at your own risk.
Relax and unwind
Swim and jump off the yacht
Sea turtle, dolphin, manatees, and other wildlife sightings
Take in the history of Key West.  Key West is the shipwreck capital of the world.  Many customers enjoy a guided tour of Key West history and landmarks on a day cruise.
Many customers like to fish.  Keep in mind our yachts are not fishing boats and will not have these capabilities.  It usually is possible to drop a line while anchored for a fresh dinner.
Stay overnight at anchor by a private island 
What should I bring and what is allowed on my yacht rental in Key West?
Alcohol is allowed.  Please drink responsibly!
Bring beach towels
White soled shoes just for walking on the boat with.  Shoes on your feet that you walk on the street with are not allowed on our yachts.  
Ocean friendly sun tan lotion.  No spray sun tan lotion allowed on our boats! Most sun tan lotions will kill our beautiful coral reefs.
Bug spray with deet.  In low wind conditions Noseeums can come out at dusk for a little while
Iron if needed. 
Smoking is not allowed on our boats.  You can smoke on the docks however.
Groceries, ice, water, ground coffee for drip machine, coffee filters
All our yachts have the following:

Fully furnished kitchens with eatery and cooking essentials
Appliances: Oven, cook top stove, microwave, refrigerator, freezer, and large cooler.
Bed linens
One set of bath towels per stay per adult
Hair dryers
Toiletries: Hand soap, body soap, shampoo, and conditioner.
Is there any movement on the Key West yachts?
There is no movement of the yachts while they are tied to the dock at the marina
There is slight movement at an anchorage when the yacht is away from the marina at times.  Sometimes there is no movement on the yacht while at an anchorage like this.
If you are prone to sea sickness please visit this article on our site: https://blueoceanyachtcharters.com/eleven-tips-to-prevent-sea-sickness/
Most of our customers do not develop sea sickness when underway when they follow the instructions in the above article.
What is the weather like in Key West?
Key West is mostly warm all year round with average highs around 80 degrees and low temperature averages around 68 degrees
Great for ocean and swimming pool activities year round
Summer time tends to have more rain that are short lived.  Winter is our dry season in Key West, Florida
Winds are prevailing out of the East.
Best sailing and weather conditions are in the spring and fall
Summer time tends to have less wind and winter months tend to be more windy
Will my group have the Key West yacht all to ourselves?
Yes! We do not sell rooms to other parties or offer shared accommodations
Can I go to a sandbar or island on a Key West yacht charter?
Most likely, No
On an overnight charter away from the marina, you may be able to get to a sandbar on one of the yacht's dinghies
Islands are common to go to on an overnight charter away from the marina
Make sure not to disrupt the sea grass or plant life that grows on the bottom of the ocean.  Sea grass is common near sandy areas.
It is illegal in Key West to disrupt, or even touch corals and sea grass.
What is average gratuity for captain and crew on a yacht charter in Key West?
Average gratuity is 20% of the total cost of the charter.  Do not tip off of the captain's fee.  10-20% gratuity is common on a yacht charter over $3000.  The higher the charter cost above $3K, the more a customer can reduce the gratuity percentage.
Tipping our staff while they are at the docks helping you is customary
What is the cost of fuel on a yacht charter in Key West?
This depends on how much you sail and how much you motor.
On a sailboat the following is a typical total cost: 2hr: $30, 4hr: $50, 8hr: $75, 24hr: $100, 2 nights: $100-$150 (total for the 2 nights), 3 nights $100-$200, 4 nights $100-$250, 5 or more nights: $100-$300 
On a motor yacht the following is typical: 2hr: $50, 4hr: $100, 8hr: $150, 24hr: $200, 2 nights: $200-$250, 3 nights $200-$400, 4 nights $250-$500, 5 or more nights: $300-$750
Is it customary to provide food and beverages for the captain & crew on a yacht charter in Key West?
Yes! It is industry standards for the yacht charter customer to offer and provide food and beverages to the captain and crew.
Unless you hire a chef or have food catered, you will pay for your own provisions, pick them up or have them delivered, cook your own meals, and cook enough for the captain and crew.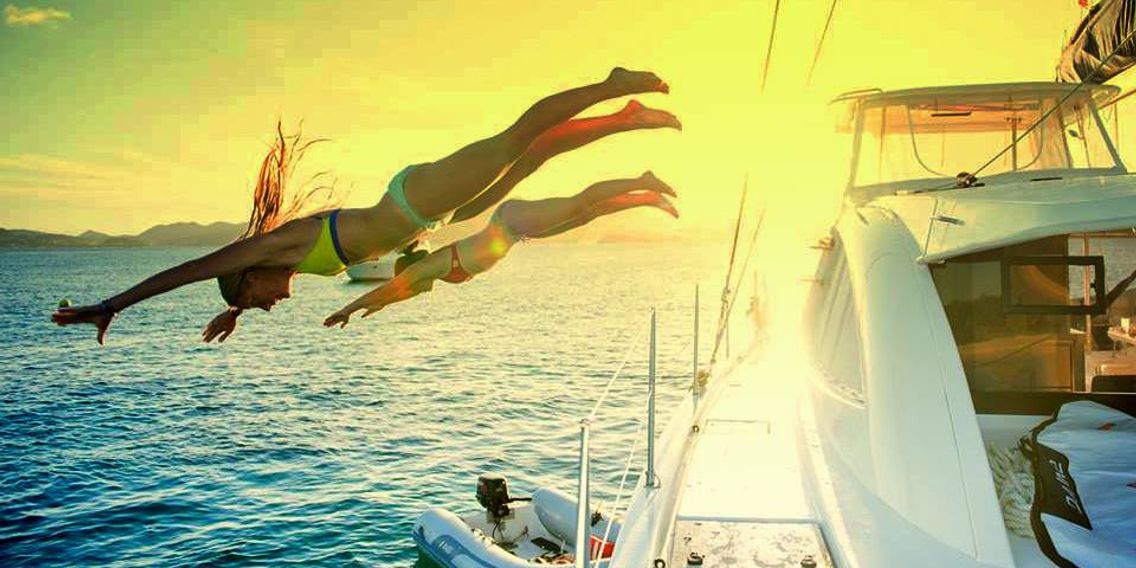 We're in Florida
Address: 7005 Shrimp Rd Key West, FL 33040
Hours: 7am to 8pm Everyday
Phone: 305-923-4152 Call or text
Email: booking@blueoceanyachtcharters.com